Stormers beat Wolves in final home game – MATC Times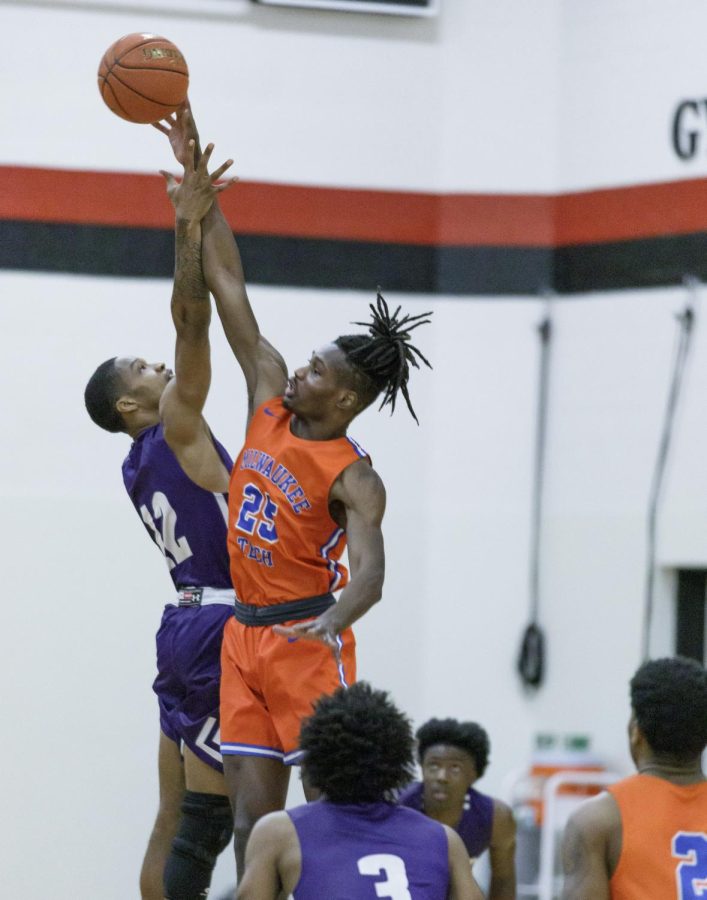 Originally published February 11, 2021
On Thursday night, the Milwaukee Area Technical College men's basketball team, the Stormers, defeated the Joliet Junior College Wolves 92-71 at Reinman Gymnasium on the campus of Alverno College.
To celebrate Black History Month, the first 100 students received free t-shirts, the black national anthem, Lift Every Voice and Sing, was played before the game, and fans heard facts about the african american sports achievements during time out.
The Stormers entered the contest one game behind first-place Wolves in the North Central Community College Conference. They lost to Wolves 95-92 when they first met in January at Joliet. Assistant coach Travis Mrozek wanted to make sure they didn't make the same mistakes,
"I just felt like we weren't able to get into a fast pace like we normally did last time out against Joliet," he said. "They took us out of our element, and our goal this game is to get out of the fast break and work hard with Mason," Mrozek said.
The defense was there in this second match up. The Stormers' teeming defense helped create 23 turnovers resulting from several quick breaks and easy runs.
Stopping first-year goaltender Joel Watts was also a factor the team wanted to focus on. In their previous meeting, Watts scored a season-high 28 points against the Stormers, including seven three-pointers. Thursday, he was rendered virtually silent on offense with ten points in the first half.
"He had a great game against us last time out, and we just tried to help him as much as possible," Stormer forward Mason Johnson said. "Whether it was crashing in defense or doubling him, we weren't letting him beat us," Johnson said.
Four Stormers scored in double figures, guard Jaylin Scott leading with a game-high 24, Johnson (19), Karl Blanton (17) and Chima Nwosu (16).
After a slow first half, Johnson had a total of 10 rebounds and 19 points on 15 shots, his 13th double-double of the year. According to Johnson, the recognition goes to the whole team.
"The credit goes to the whole team. We work harder than everyone. We train and push ourselves to improve every day. As we approach the playoffs, we have to work and outperform everyone in front of us," Johnson said.
MATC is looking to win back-to-back N4C titles for the first time in history. They have two conference games left on the regular schedule. Tomorrow at Collège de Dupage and Tuesday at Rock Valley College.
Click here for more information on the Stormers: Stormers website
More from the Times Winter Launch Ceremony Held at a Venue Known for Loud Cheers
More from the Times Basketball player Lauryn Evans is proving to be a game changer on and off the court