Stormers beat Scots 128 – 83 – MATC Times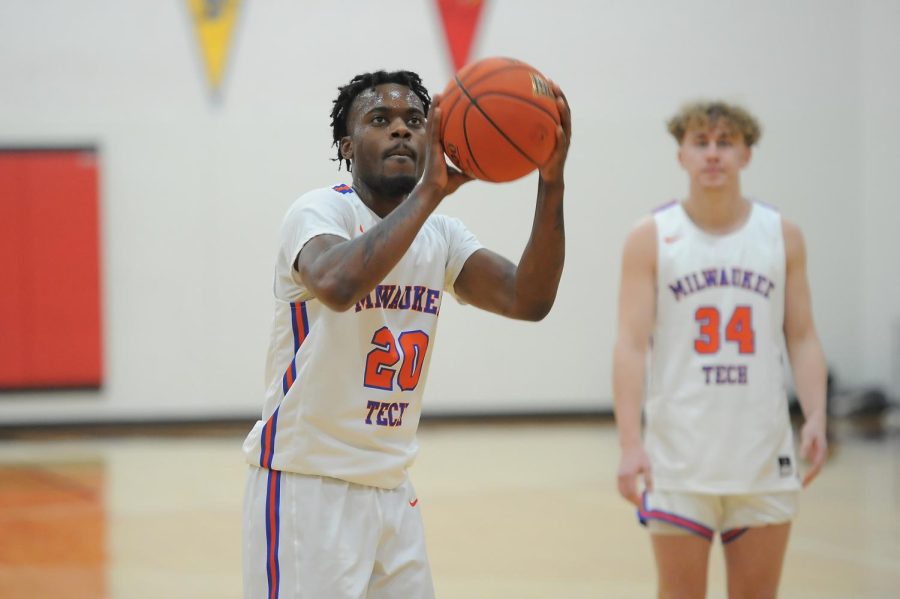 Men's Basketball Team Ready to Play in Region IV Championship Game
Offense dominated the day as the Milwaukee Area Technical College Stormers men's basketball team scored its season-high point total in a 128-83 loss to the McHenry. County College Scots at Alverno College's Reiman Gymnasium on Sunday.
The Stormers soundly beat the Scots earlier in the season (104-70), however, the 'win or go home' nature of the tournament forces teams not to take their opponents for granted. A feeling that has not escaped the Stormers.
"You know we beat this team by a decent amount the last time we played, but that doesn't matter," goalkeeper Chijioke Nwosu said. "Each team can run, and we just have to play one game at a time and play our game," Nwosu said.
The team entered the tournament as the number two seed behind top seed Moraine Valley, earning both teams a first-round bye. The extra free time hasn't slowed down the Stormers' mighty offense.
Five Stormers scored in double figures with three players scoring 20 or more points. Guard Karl Blanton Jr led all scorers with 24 points. Point guard Jaylin Scott scored 21 points and point guard Erik Victorson scored 20 points with six three-pointers. 2022 North Central Community College Conference Player of the Year Mason Johnson earned the game's only double-double with 14 points and 14 rebounds.
"The game plan was just for us to be us," coach Randy Casey said. "We had to keep doing the things we do to pick up our pace. That's what we've been for the past few years. They came out and did it extremely well today," Casey said.
The coach added that the game was a good team effort as his players shared the ball and were locked in the game defensively.
"That's what starts our offense and our quick transitions in defence, we did that very well today," he said.
Scottish center Sam Stewart only managed to play 18 minutes in the game. The Stormers took advantage of their squad's lack of size by accelerating the game with quick play. A style the Scots were unable to match. The Stormers forced 25 turnovers and hit 16 three-pointers, a season high. The team also blocked seven shots, including three from 6'3 goaltender Chima Nwosu.
"I think we achieved our goal of playing fast," assistant coach Travis Mzorek said. "We just have to make sure we play our game and take it one step at a time and if we do that we can hang out with anybody in the country," he said.
Point guard Victorson added to the team's speed of play. The game marked his first start of the season. In high school, the freshman averaged 18.1 points in his senior year at Oregon High School and was named a 2021 Associated Press Div. II All-State Team Honorable Mention as a senior at Escanaba High School in Michigan.
Basketball awards and accolades are commonplace in the Stormers talent pool. Every player is expected to perform above and beyond. Victorson says his drive to succeed has been a major factor in his play all season.
"I just had to stay motivated and do what I could to help the team. I came from high school and started every game playing on the bench, but I knew I could help the team and that's my goal every game," he said. Victorson played the most minutes on the team with four rebounds and six assists in addition to his 20 points.
The Stormers will face the Black Hawk College Braves on Saturday, March 5 at Reiman Gymnasium in Alverno for the Region IV Championship and entry into the NJCAA National Tournament. Departure time is at 3 p.m.
Although a national title is the ultimate goal, Casey said the team will continue to lead this tournament season one game at a time.
"We're going to take this game one at a time and not get ahead of ourselves and know we have to mind business or our season is over."
Follow the MATC Times on Instagram at @matctimes, on Facebook at Milwaukee MATC Times and on Twitter at matctimes
Related: Men's Basketball Team Is 2021-22 N4C Champions
Related: Basketball player Lauryn Evans is proving to be a game changer on and off the court
Related: Female Soccer Player Makes History As First Woman On Men's Team