Stormers baseball starts season on high – MATC Times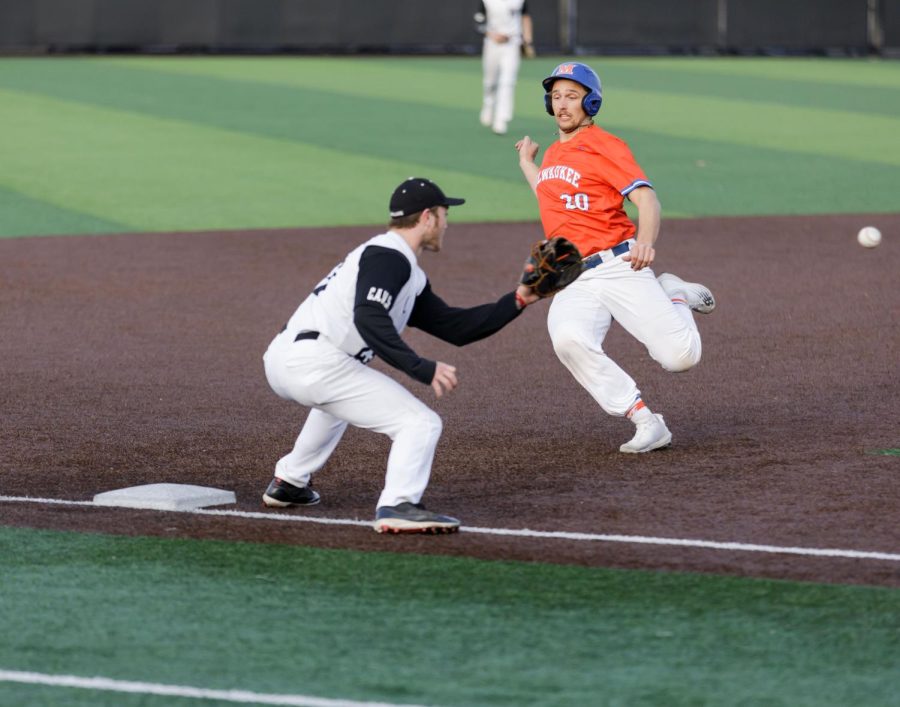 Next home game scheduled for Sunday at Franklin Field.
As the weather warms up and the sun sets later, winter turns to spring and that means Stormers baseball is back. The MATC men's baseball team started its season in February and played 15 games winning eight of them. Entering his fourth season, baseball head coach Zac Charbonneau is excited to return to a season where COVID-19 fears are fading.
"We had some practice time and then everyone [had to] go home and lock yourself in your room so we can keep playing games," Charbonneau said. "Now there's a lot more interaction, our relationship is better and I think that's the difference. We are aware of COVID and respect it, but now we can be much more of a family.
Last season, due to COVID regulations, overnight travel was not permitted for the team. For the Stormers, that meant having to get on buses at three in the morning, drive six hours, play two games and go again.
Last season, the Stormers finished with a 19-17 record. The team was able to have some playoff success. However, they would fail to qualify for the regional tournament.
"We play in arguably the most competitive region at our junior college level. Anyone who comes out of our region has a chance to win a national championship," said Charbonneau. "Our goal is to win the region this year. This is to continue building on the small successes we have had so far.
Student-athletes who competed in the 2020 season were granted an additional year of eligibility by the NJCAA due to the cancellation of the season.
One player taking advantage of this opportunity is Peter Fusek. An outfielder from Chicago, he arrived at MATC in the spring of 2021 after transferring from Kankakee Community College. Although last season was his second season in junior college baseball, it was only his first season playing.
"I didn't play the COVID season, so last season was my first year playing college baseball. This [upcoming] the season will be my second.
His freshman season was strong enough to earn him second-team all-conference honors as voted on by the NJCAA's Division III Baseball Committee.
"A lot of it is consistency, a lot of players will have good numbers for five or 10 games but they will get injured or they will lose. Last season I didn't leave the pitch. I played every second every game," said Fusek. His experience has elevated him to a leadership role within the team. "I love being a leader. I love being someone that people look up to. That's a responsibility because if people expect something from me, I can't take a day off," Fusek said.
The Stormers will also rely on veteran leadership from Jake Klekamp. The Rockford, Illinois wide receiver has high hopes for the team. Klekamp is delighted to be back and trusts the youngsters who have been recruited.
"I think the regional championship is what we expect, it's the minimum." said Klekamp. "I think the way our team is built and the shots we have this year, it's totally doable." Klekamp is currently working on becoming a pilot and applying what he learned to the baseball field. "I think being calm is a big deal. On an airplane it can get stressful and on the baseball field it's the same thing. Being calm allows you to think clearly and act according to the current situation," he says.
This season, the team welcomed many new players. There are nine players on the list who returned from last season. This makes the leadership and experience of Fusek, Klekamp and the other seven returning players all the more important. Coach Charbonneau has worked hard to recruit and make sure the right guys are recruited.
"It starts with the person and the athlete. They have to fit us and the culture we have here in terms of personality and ethics," says Charbonneau. "It doesn't matter where their driver's license says they're from. We will go where it takes us. »
For those few returning players, like Fusek, this season is all about unfinished business and achieving the goal of a championship.
"I didn't come back to add 20 runs to my batting average. I came back to win the region. I came back to win the section. You know I want to win the national championship.
The MATC Times can be reached at [email protected]
More from The Times: Stormers at National Tournament
More from the Times: Alum and former early speaker's life-saving decision
More information on the exhibition "Breaking Through!" from the Times Community Art Collection! slideshow